° In 2020, our services are expanding !
> Authors : through "shorts" packages (1 to 3 days), we open our support in financial development  for concept / writing / rewriting.
> Environmental innovation : we are extending our expertise in "ecoproduction" financing to compagnies in all sectors carrying out R&D or ecological investments.
Do not hesitate to contact us to discuss your projects and receive our general conditions of sales !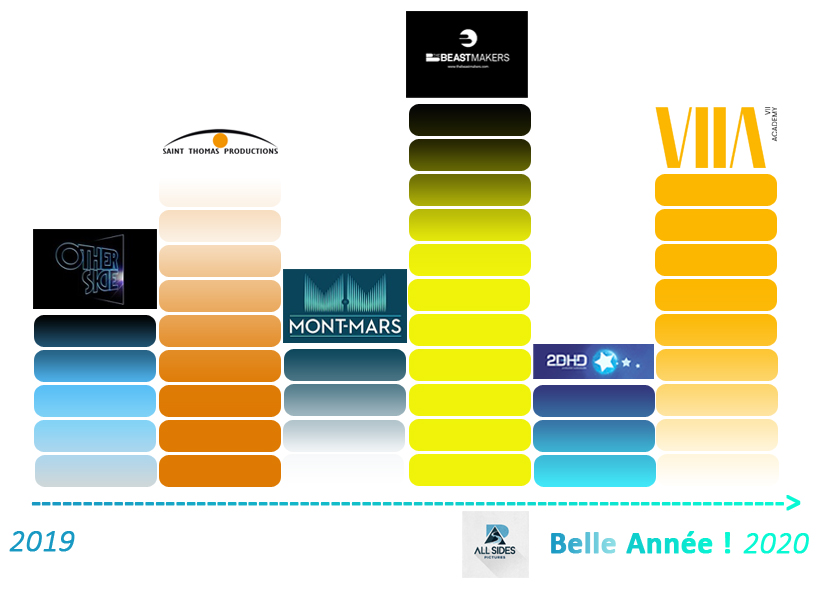 ° In 2019, 8 compagnies have trusted us :
VII Académie (photojournalism and media)
Financial development for photojournalism masterclass
Financial development for pluridisciplinary festival Nature : Through Her Eyes
2DHD (animation studio)
Financial development for 2D serie concept
The Beast Makers (softwares developer)
R&D financial development for 3D charaters Rig simplification
Mont-Mars (hybrid sound studio)
Financial development for hybrid sound editing equipment TV / Web / Binaural

MyRole (web application for casting and administrative management  of filming staff)
R&D financial development
OtherSide Studio (motion capture / VR studio)
Financial development for immersive games prototype
Financial development for motion capture / VR equipment and capture set
> 3 companies completed their projects during the year :
MyRole has deployed its digital safe for a fully dematerialized administrative management of filming staff. The web application originally designed for extras profiles is now available for technicians. More information on this ideal dematerialization for the fluctuating hiring of animation studios here.
OtherSide Studio presented to the public a 2 players version of REDUX, its immersive real-time motion capture / VR game prototype.
The VII Académie presented a first edition of the festival Nature : Through Her Eyes praised by the press and regional profesionnals. The speaker's conferences and ITW are available here.